NEW SEASON
NEW STYLES

4X STYLE INSPIRATION
Double denim
Puffer girls
90's turtleneck
Cargo


"Let's start with some new fall/winter inspiration"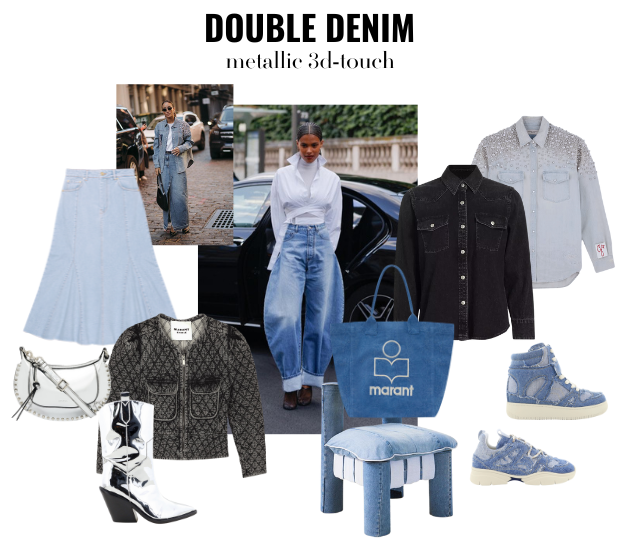 Double denim
A statement for the new fall-winter season


Double Denim, a trend rapidly taking over the fashion world this fall-winter season, embodies bold style and confidence! It's all about combining jeans on jeans, creating a powerful and effortlessly cool look. Maxi skirts with denim blouses and denim sneakers highlight the versatility of this trend, giving a contemporary twist to traditional denim.


Leading designers from our collection, such as Isabel Marant, Golden Goose, Ganni, Citizens of Humanity, and Agolde, play a crucial role in shaping this trend. Their collections emphasize the harmonious mix of fabrics, textures, and styles. Denim is no longer confined to just jeans; it finds its way into all facets of fashion, including skirts, shirts, jackets, and shoes.


Moreover, the Double Denim trend is accentuated by incorporating metallic and silver bags, accessories, and shoes that perfectly match an all denim outfit! These sparkling accents add a touch of glamour to the rugged denim look, making the outfit stand out even more and giving it a modern, futuristic vibe. Dare to take the challenge, mix and match your favorite denim pieces, and add some metallic magic to stamp your unique mark on the fashion world this season!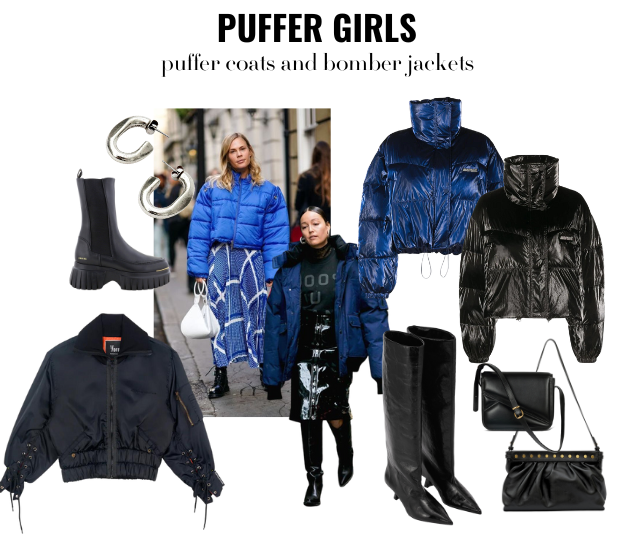 Puffer girls

Embrace the warm trend of this season
This season, we welcome the Puffer Girls trend with open arms! Bomber jackets and puffer coats are the absolute must-haves dominating the street. These padded jackets and coats stand out due to a special stitching technique (a.k.a. quilting) that gives them a voluminous appearance. Often crafted from shiny nylon, they add not only extra warmth and insulation but also an extra dose of style and comfort to your outfit!


Designers like Isabel Marant, Agolde, Blonde no.8, and 1/Off Paris set the tone with their beautiful collections. The subtle, ingenious quilted stitches create a playful effect on the jackets, making them not only extra warm but also extremely fashionable. This trend goes beyond just jackets; padded details now adorn accessories, bags, and shoes.
With our Puffer Girls trend, it's all about embracing the cold in style!
She's back!
The '90s turtleneck is back and making an impressive comeback in the fashion world. This fall-winter season, it's all about embracing the preppy look with a touch of nostalgia. The iconic pullover from the '90s form the basis of this trend, combined in a perfectly balanced layered style!
This turtleneck serves as the perfect base, followed by a button-down blouse and a stylish blazer for that contemporary and polished look. Fashion houses like Isabel Marant, Missoni, Joseph, Iro, and Extreme Cashmere deliver the most beautiful turtlenecks that bring this trend to life. The rich choice of colors and textures gives you the freedom to express your own style.
Complete your '90s turtleneck look with bags, accessories, and shoes that enhance the vintage feel! Opt for small handbags, college style loafers, or elegant ankle boots with heels to create the perfect balance between casual and chic. This trend brings not only warmth and comfort but also a piece of history back into your wardrobe. So, dive into '90s fashion and experience the rebirth of the turtleneck in a contemporary and fashionable way this fall and winter!
Cargo
The Cargo pants revival


Inspired by traditional work pants, the cargo pants are making a bold comeback in the fashion world this autumn-winter season of 2023. These trousers, often characterized by a loose fit and an abundance of pockets, stitches, and hammer loops, are made from robust materials like denim, twill, and cotton.


This upcoming season, cargo pants are not only worn in a rugged style but also styled in a more feminine way! Paired with elegant, feminine blazers, blouses, and heels shoes, they demonstrate their versatility in the fashion world. The blend of masculine and feminine elements creates an intriguing contrast, making the cargo pants a must-have in every fashion-conscious woman's wardrobe!


This trend hasn't gone unnoticed in the global fashion scene and is a widely seen street style trend in cities like Paris, New York, and Copenhagen. The streets come alive with the rugged yet refined look of the cargo pants, worn by trendsetters who love the fusion of comfort and style.


The cargo trend goes beyond just pants and is even refined in other clothing items like blouses, jackets, and also beautiful bags! The emphasis is on functionality with the addition of pockets and other edgy enrichments. This trend emphasizes the blend of rugged and chic, with cargo pants playing a prominent role in defining an effortless, contemporary style. Dare to experiment and embrace the versatility of the cargo pants this autumn and winter!
Soon more style inspiration!