A DAY IN ST. TROPEZ!
A style guide for beachwear and iconic accessories
Imagine a radiant day at the glamorous beach of St. Tropez, surrounded by striped umbrellas in trendy beach clubs (Have you spotted the Jacquemus beach club?) or stepping aboard an impressive yacht.

What do you need to immerse yourself in the French beau monde, like a true Brigitte Bardot, with her effortless style and playful elegance?
Discover our amazing selection of beachwear, fashion, and accessories that will ensure a show-stopping appearance for a day at the Mediterranean Sea (or any other sea)!


Beachwear, fashion, and accessories that will ensure a show-stopping appearance at a day by the Mediterranean Sea (or any other sea)!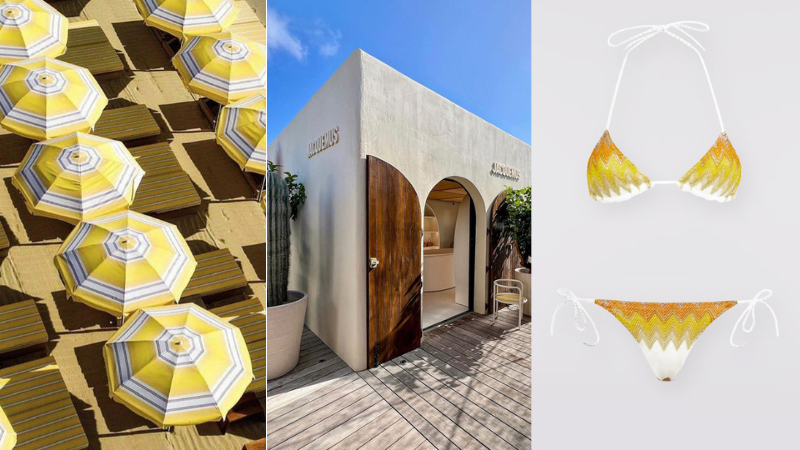 (Jacquemus beach club in St. Tropez - Missoni bikini in iconic zig-zag print)
Let's start with the breathtaking Missoni bikini in the iconic zig-zag print. This high-end bikini has a great fit and also looks great when combined with other beachwear favorites from our Missoni collection!
For a playful and airy look, the Xirena dresses, including models like Nissa and Saskia, are perfect. They are comfortable and will make you look fantastic while you enjoy the sun rays and the lovely sea breeze. Also perfect to wear over your bikini or swimsuit. Win/win.
Looking for a match for your big floppy summer hat? Then choose a Sea Me Happy dress. Made of airy linen, this dress will make you float over the sand like a summer dream!
For those who are looking for a playful look with style, we recommend a classy jumpsuit! For example, the Iro Paris Pobea jumpsuit (sale!) or one of our linen blend jumpsuits from Zimmermann. These jumpsuits perfectly combine class, comfort, and fun.
Is a striking animal print more your style? Check out this perfect beach set from Ganni, consisting of a dress and pouch, a.k.a. clutch. Also, don't forget the yellow-striped Zimmermann top in the model Bodice, along with the matching shorts. This nautical combination will make you shine like the sun!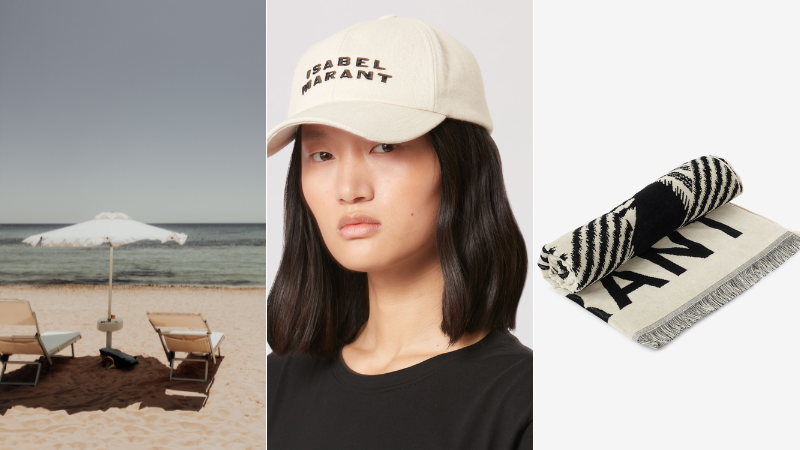 (Isabel Marant Tyron cap - Isabel Marant Soverato beach towel)

To complete your look, the right accessories are essential. For example, the luxurious Isabel Marant Soverato beach towel. Or one of our designer beach towels from the iconic Ami de Coeur line by Ami Paris. With these, you can relax and enjoy the warm sun rays on the beach in style. Protect your eyes from the bright sun with a frame from Isabel Marant. Whether you choose a black or white sunglasses, you will look like a style icon while dominating the beach scene. And no more bad hair days! Wear a scarf from Golden Goose as a bandana in your hair, just like Brigitte would do:).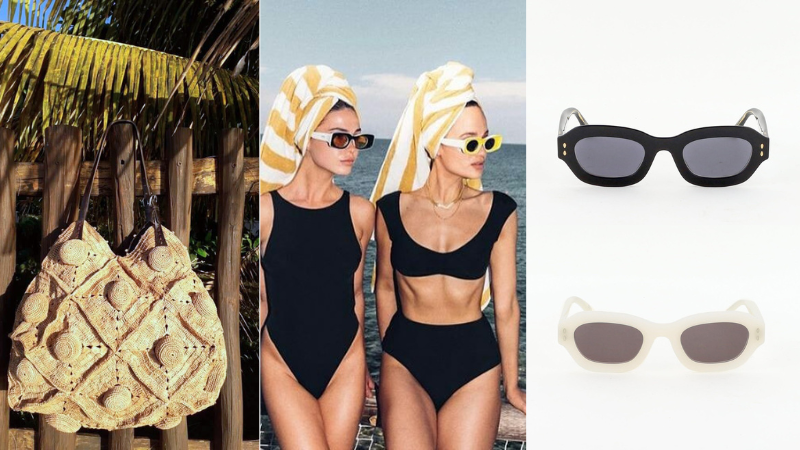 (Rabarny raffia bags - Isabel Marant sunglasses)

And when it comes to beach shoppers, you're in luck! Marjon Snieders offers a range of stylish options, including the most beautiful raffia bags from Rabarany, canvas shoppers from Isabel Marant, and timeless bags and clutches from Jerome Dreyfuss. With these, you can carry all your beach essentials in style.
With the right women's fashion and accessories, you can make an impressive entrance at the beach. Whether you go for the iconic prints of Missoni, the classic boho designs of Xirena, or the seductive accessories of Isabel Marant, you will shine because you feel like a true woman! Don't forget that Marjon Snieders can help you find the perfect outfit and accessories for your beach adventure. So embrace your inner fashionista and shine like never before while enjoying a relaxed day at the beach.