NEW SEASON
NEW STYLES

STYLE INSPIRATION
Padded leather
Bomber Jackets
Denim all-over
Ruffle romance
Suits your business
Sparkling summer


COLOR TONES SPRING/SUMMER

Orange, beige & tangerine
Yellow, lilac & pink
Cobalt, purple & blue

"Let's start with some new spring/summer inspiration"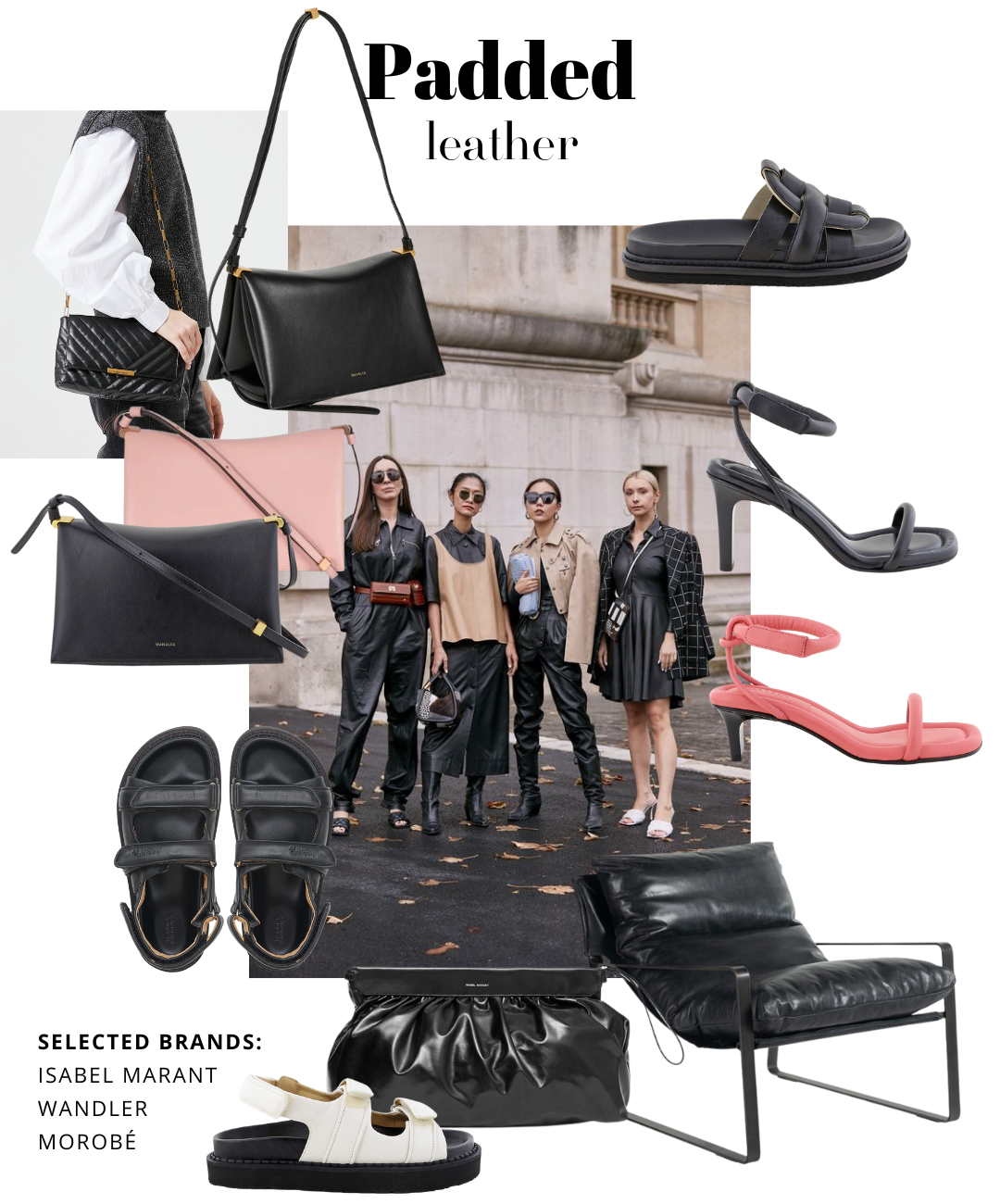 Padded leather
This trend is on top of this list for a reason. Padded leather is a unique processing of leather that we have seen before in collections by Morobé and jackets by Nanushka. It adds a special touch to often simple-looking designs. A rectangular bag with padded flap takes on body, a unique look and gets its own identity. In our crossbody and handbag collection, the Wandler Uma Baguettes are our ultimate favourite! This endless classic bag in a cute size goes with every outfit and can be combined as a real eye-catcher thanks to its fun colours. This season, Isabel Marant also has several padded items in her shoe and bag collection. Especially cute are the sandals with padded details; the Bertee sandals with small heel and the Katree sandals with high heel form a sexy feminine pair of summer shoes that can be worn under frivolous dresses and skirts but can also be combined super cool with all-denim outfits! Similarly, the Madee flat sandals with their cool fashionable fit! The Merine quilted leather bag by Isabel Marant is an iconic model from the bag collection of this famous French Woman. This design is characterised by the use of quilted leather, creating a padded look. The high fashion finish of gold link chain and gold brand label make this model a beautiful Isabel Marant gem. We mentioned the brand earlier, Morobé, this brand has made padded leather its trademark by using the quilted logo in recurring designs. Heeled sandals in model Romy and feminine slip-on shoes with names like Emilia and River form a special high fashion collection by Morobe.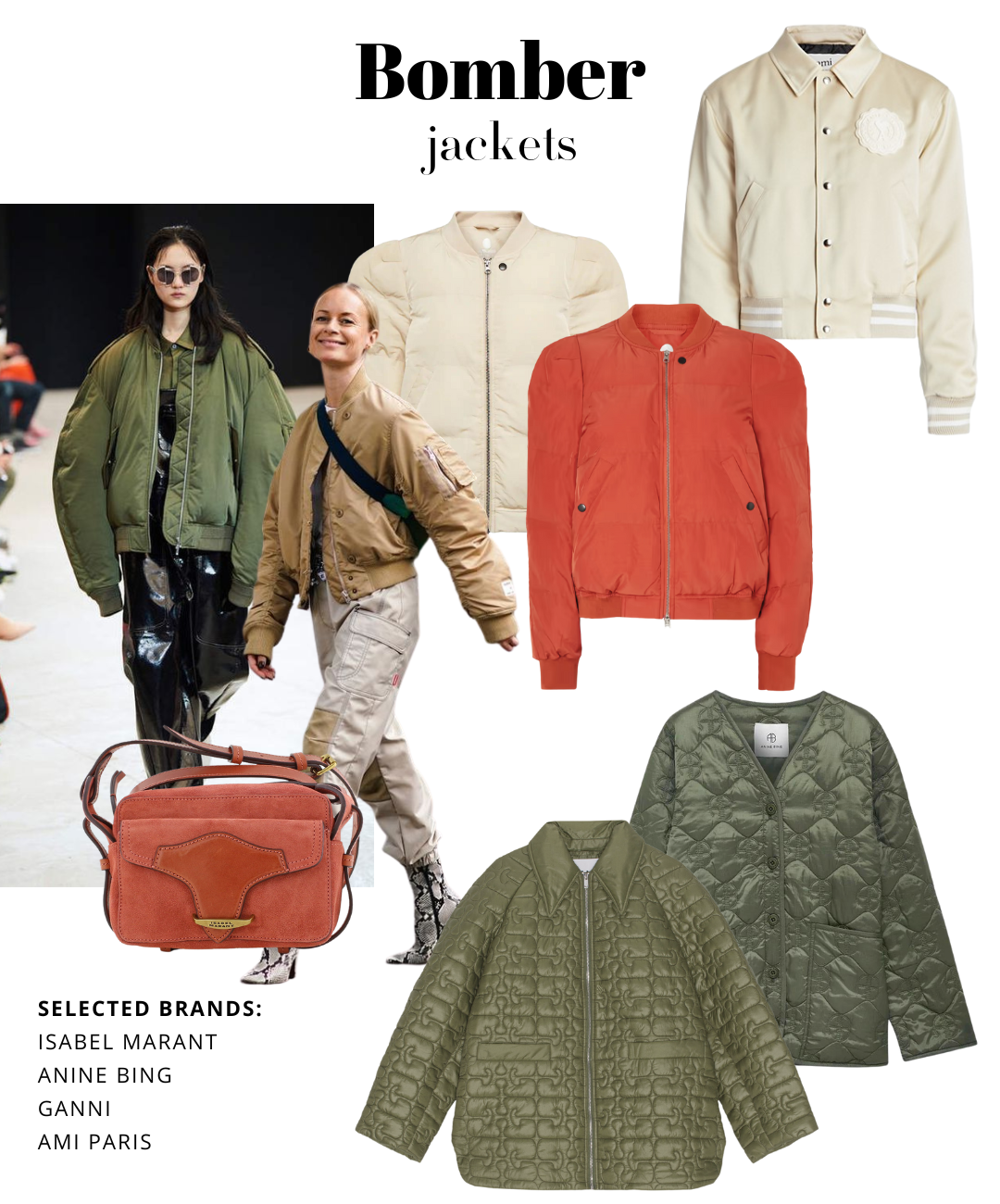 Bomber jackets  
Inspired by the flight jackets of the 1950s, the trendy bomber jackets of our time. Here too, the padded trend actually comes back a bit as the rounded shape created by stitching through separate (often high-quality nylon blends) fabrics gives the iconic, voluminous effect. Originally, the aviator jacket was actually worn fitted and mainly provided comfort, warmth and ease of wear. But as with many items, designers and influencers put a twist on established and original designs, creating the coolest street style looks! We love these out-of-the-box ways of combining and a bomber jacket of this era can be worn nice and oversized or boyfriend fitted. Similarly, Marant Etoile's Cody jacket can be worn fitted on jeans or oversized on a dress or skirt with great style! Ganni and Anine Bing go a bit more back to basics and also use the green colour, derived from original army jackets, in their designs. Super cool to wear on a printed tee and distressed denim.
Also, the baseball jacket / bomber jacket combo is often made into one design. This is reflected in the use of wide elastic cuffs, which in this way also give the jacket a minimal rounded shape. Ami Paris and Golden Goose have such cool jackets in their collections this season. Which do you prefer; bomber jackets or baseball-inspired jackets?


Denim all-over
To be continued..
Ruffle romantic 
To be continued..


Suits your business 
To be continued..



Sparkly summer 
To be continued..
"COLOR TONES YOU CAN'T MISS THIS SEASON"

Orange, beige & tangerine 
To be continued..
Lilac, yellow & pink 
To be continued..



Cobalt, purple & blue  
To be continued..